Material:
1. CuZn25Al6Fe3Mn3 + Graphite
2. ZCuAl9Fe4Ni4Mn2 + Graphite
3. ZCuSn5AlPb5Zn5 + Graphite
4. ZCuSn10Zn2 + Graphite
5. HT250# Cast Iron + Graphite
6.CuSn6Zn6Pb3 + graphite or MOS2
7.CuSn12 + Graphite.
8. CuZn25Al6Fe3Mn3 (High-stress Brass)
Tech Date:
Physical and mechanical Performance

Density




8.2 g/cm3

Linear Expansion Coefficient




1.6-2.0 10(-5)/℃

Heat-conducting Coefficient




38-55W(/m.k)

Tensile Strength




≥755 N/mm2

Anti-compact Tenacity




≥400-500 KJ/m2

Hardness




≥ 210 HB

Flexibility Coefficient




100-140 KN/mm2

Tensility




≥ 12%

Friction

Oil Lubrication

0.03u

Dry Lubrication

0.16u

Working Temperature Limits




-40℃ ~+300℃

Max Load Pressure




100N/mm2

Max Linear Velocity




0.50 m/s

Max PV Value




1.65N/mm2.m/s
Application:
used on consecutive casting and rolling machines,mine-exploiting equipments,ships,steam engine,injection molders and auto molds,anti-abrasion and anti-erosion parts,light industrial machines,tools,moving belt in the drying machine,door of the fireplace,instance,on no oil parts on the building,metallurgy and transportation machines,machinetool,agricultural machinery,crane electromotor,spring pin,steering shaff and transmission etc
Photo: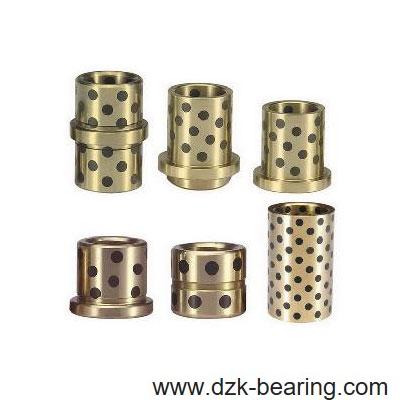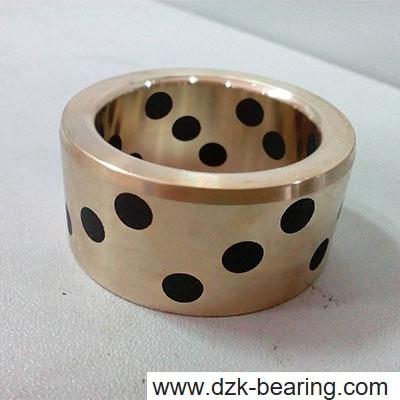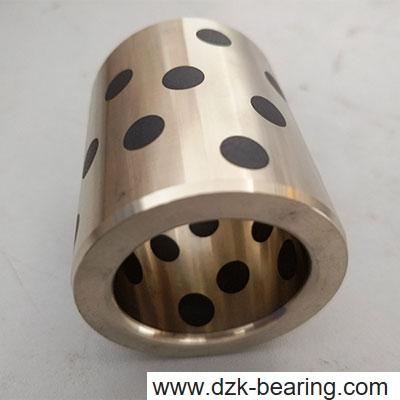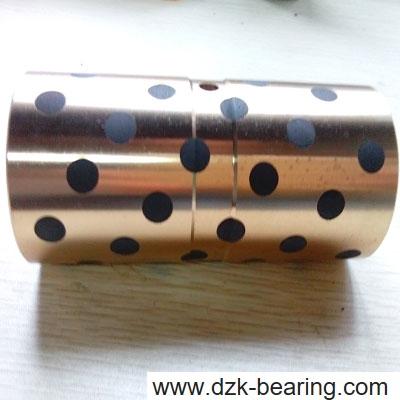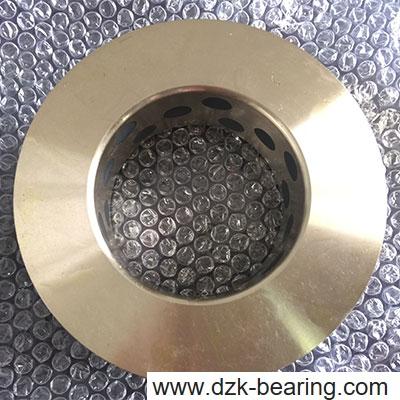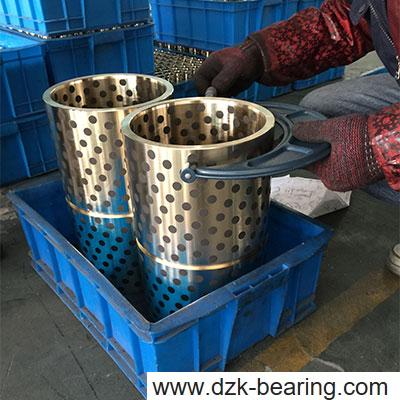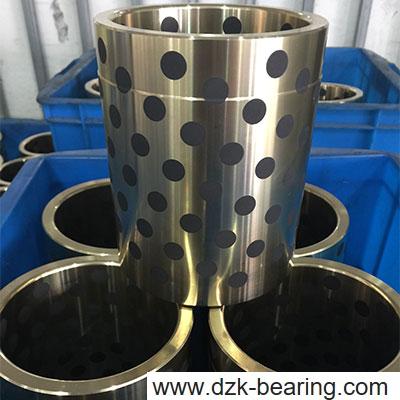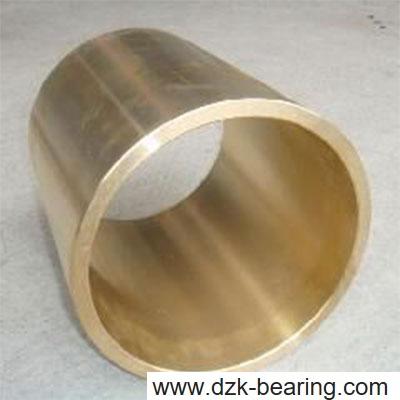 Custom-made guide bearing: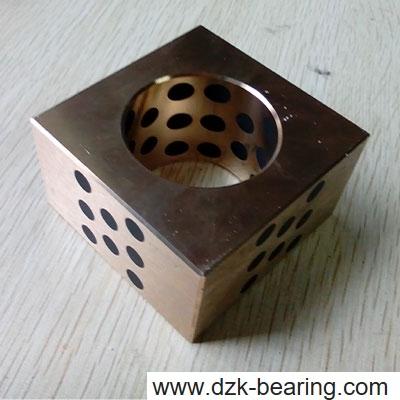 Cast Iron with Graphite bush: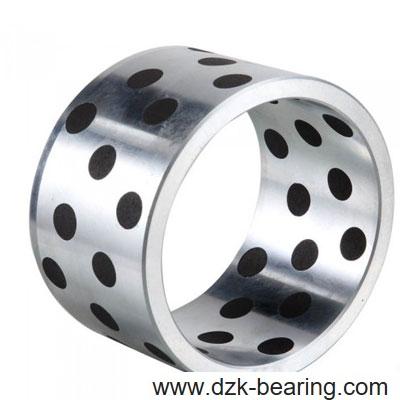 Flange bronze graphite bushing: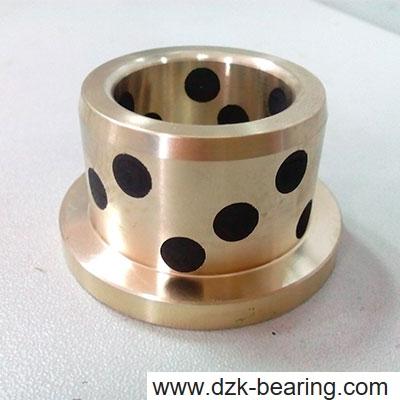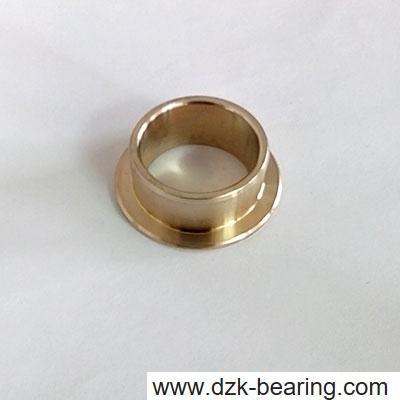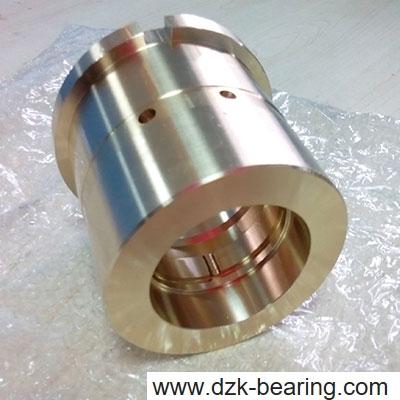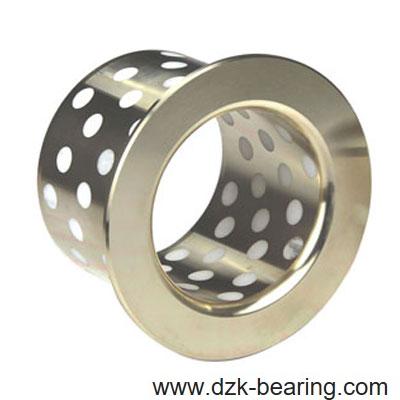 Slide Plate,Skateboards,Thrust Washers,Customized --- Brass Graphite Bushing Solid Lubricating Bearing: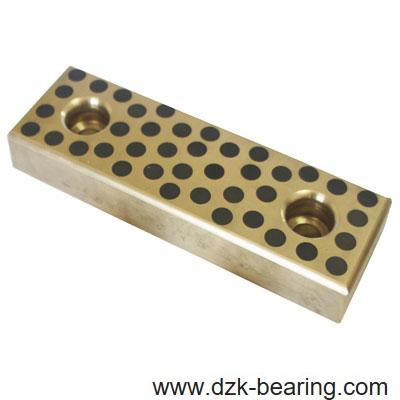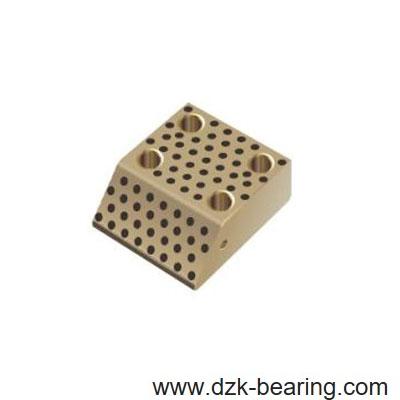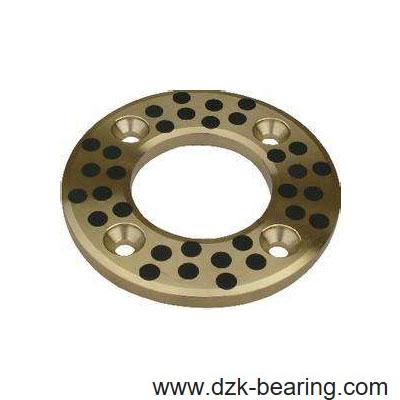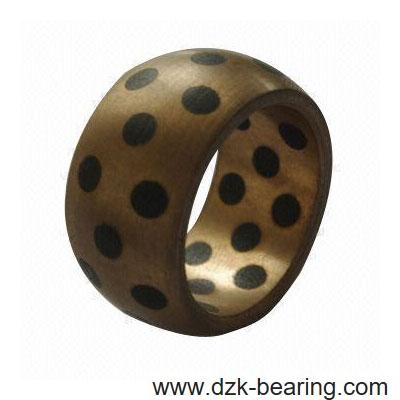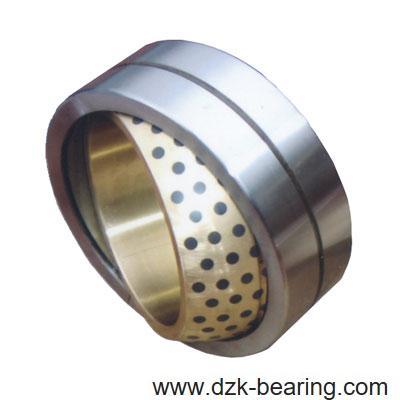 Customized:
Client Drawing,different material,size and type,with graphite or not,etc.
Exporter of Aluminium Bronze Bushes - Aluminum Bronze Parts
Aluminium Bronze Bushing Feature
High strength
Corrosion resistance compare to other bronze
Low reactivity with sulfurous compounds
High hardness
High wear resistance
C95400 Aluminum bronze Bushing : C95400(B505 ) Aluminum bronze is the most common cast aluminum bronze, C95400 is used in many heavy duty, high load and high wear applications. Good tensile strength, ductility, weldability and resistance to fatigue. Typical applications include bushing,sliding bearing,washer,plate,strips.
Weight Calculator(C95400 ASTM B505 Aluminum bronze Bushing )
Standard-Stocked Cast Bronze Bushings
DZK-Bearing Produce the aluminum bronze alloys bushing & bearings as standard-stocked products in standard or customized size,Aluminum bronze is the highest strength standard copper-based alloy.C95400 Bronze Bushing Material :Aluminum in conjunction with iron and nickel in C954 acts as a strengthener in these alloys bushing. All of the aluminum bronzes can be heat treated, further increasing tensile strengths.
C95400 BUSHING SIZE OR ACCORDING COSTOMER DRAWINGS.
C95400 Aluminum Bronze Bushing
C95400 Aluminum Bronze / C954 Aluminum Bronze C95400 Aluminum Bronze is a tough, hard, aluminum bronze that resists wear, abrasion, and deformations under high compressive loads. When mating with dissimilar metals, C95400 Aluminum Bronze prolongs part life, cuts maintenance costs, friction, galling, and seizing are reduced.
SHAPES
C95400 Aluminum Bronze Bushing
Flat Strips
Flange Bushing
Trust Washer
Tin bronze (C83600/C93200/CuSn12/CuSn7Zn4Pb7);

Aluminum Bronze (C62900/C95400/C95500/CuAl10Fe5Ni5)

ASTM/ JIS/ ASME/ AISI/ EN/ BS

1pc/neutral bag or blister bag
Application
C954 Aluminum Bronze C95400 Aluminum Bronze C954 Aluminum Bronze
Sliding Bearings
Wear plates
Bushing
Gibs and Ways
Sleeve Bearings
Valve Seats
Guide Pin Bushings
CuZn25AI5Mn4Fe3 Bush 62*50*50mm ASTM C86300
Precision Bronze Cast Bearings Manufacturers
506250 Metric Graphite Plugged Sleeve 50 ID x 62 OD x 50 OAL
Graphite Plugged Bronze Bushings are all self-lubricating and maintenance free. These bushings are machined out of continuous cast bronze and plugged with solid lubricant plugs. A bushing and it's mating
surface should always be seperated by a film of lubricant. With Graphite Plugged Bronze Bushings no form of supplementary lubrication is required.
Self-Lubricating Bushings for Guide Pins can save time and money in the design, construction and operation of injection molds.
Graphite dotted self-lubricating, CuZn25Al6Mn4Fe3 Solid Lubricant Inlaid Bearing, self-lubricating materials
Among those professional cuzn25al6mn4fe3 solid lubricant inlaid bronze bearing manufacturers in China, welcome to buy customized and low price cuzn25al6mn4fe3 solid lubricant inlaid bearing or get its free sample from our factory. CuZn25Al6Mn4Fe3 Solid lubricant inlaid bearing.
Quality CuZn25AI5Mn4Fe3 Shaft Bush Bronze Material Equivalent ASTM C86300 62*50*50 mm Diameter metric size bronze bearings Supplier, operating Temperature -40℃ to 300 ℃ Graphite plugs bronze sleeve made by the leading manufacturer. Order Today! Made in China. Standard and Custom Bronze Oilless Bushing, C86200, C86300, C93200, C95400 bronze bearing made to order from china.
Material: Cast Bronze and Solid Lubricant Plugs
Graphite Plugged Cast Bronze Bushings can be utilized where heavy loads must be supported at low to medium speeds- max PV 46,000, P-Load 7,100, V-SFM-49
The Plug Graphite Cast Bronze Bushing is able to withstand high temperatures up to 570 F
The self-lubricating feature allows bearings to be used where oiling is difficult, expensive to implement, and where grease/oil cannot be used. Excellent lubrication is achieved even under high loads at low speeds.
Self lubrication with specially embedded solid lubricants reduces friction. Coefficient of Friction: 0.04 to 0.2 typical
CuZn25AI5Mn4Fe3 Bush's Features
Self Lubricated when standard lubrication is impractical
Performs well under various loads, types and speed operations
Resists corrosive and hostile environments
Compatible with most viscous lubricants & Oil and Grease applications
Typical Applications:
Link Bushings for Construction Equipment, Boom Link Bushings for Power Shovels, Toggle Link & Guide Bushings for Injection Mold Machines, Steel Mill Equipment, Furnace Dragouts, Drying Equipment, Roasters, Press Dies, Assembly Lines, Hydro-Electric Structures, Winches, Hoisting Equipment, Tire and Paper Mill Machinery and Many Other Industrial Applications.
CuZn25AI5Mn4Fe3 Bronze Bushing Size
linear graphite copper set bushing oil self-lubricating JDB ID 40mm OD 45mm 48mm 50mm
graphite bronze bushing 40x50x25
graphite bronze bushing 40x50x65
graphite bronze bushing 40x50x20
graphite bronze bushing 40x50x50
graphite bronze bushing 40x45x35
graphite bronze bushing 40x45x20
graphite bronze bushing 40x45x25
graphite bronze bushing 40x48x40
graphite bronze bushing 40x45x40
graphite bronze bushing 40x45x50
graphite bronze bushing 40x50x35
graphite bronze bushing 40x50x60
graphite bronze bushing 40x50x45
graphite bronze bushing 40x50x80
graphite bronze bushing 40x50x30
graphite bronze bushing 40x45x30
graphite bronze bushing 40x48x30
graphite bronze bushing 40x50x40
graphite bronze bushing 40x50x50
graphite bronze bushing 40x50x45
graphite bronze bushing 40x50x70
graphite bronze bushing 40x50x60
40 x 50 x 50 Length , 60length , 70 length ,100length , 150 length
50 x 62 x length 50mm, 60mm ,70,mm,100mm,150mm
50 x 65x length 50mm, 60mm ,70,mm,100mm,150mm
60 x 70x length 50mm, 60mm ,70,mm,100mm,150mm
65 x 80 x length 50mm, 60mm ,70,mm,100mm,150mm
65 x 75 x length 50mm, 60mm ,70,mm,100mm,150mm
70 x 80 x length 50mm, 60mm ,70,mm,100mm,150mm
70 x 85 x length 50mm, 60mm ,70,mm,100mm,150mm
80 x 90 x length 50mm, 60mm ,70,mm,100mm,150mm
80 x 95 x length 50mm, 60mm ,70,mm,100mm,150mm
90 x 100 x length 50mm, 60mm ,70,mm,100mm,150mm
90 x 105 x length 50mm, 60mm ,70,mm,100mm,150mm
100 x 110 x length 50mm, 60mm ,70,mm,100mm,150mm
100 x 115 x length 50mm, 60mm ,70,mm,100mm,150mm