JDB Bronze Graphite Bearing Sold Lubricating Bushing
Material:
1. CuZn25Al6Fe3Mn3 + Graphite
2. ZCuAl9Fe4Ni4Mn2 + Graphite
3. ZCuSn5AlPb5Zn5 + Graphite
4. ZCuSn10Zn2 + Graphite
5. HT250# Cast Iron + Graphite
6.CuSn6Zn6Pb3 + graphite or MOS2
7.CuSn12 + Graphite.
8. CuZn25Al6Fe3Mn3 (High-stress Brass)
Tech Date:
Physical and mechanical Performance

Density




8.2 g/cm3

Linear Expansion Coefficient




1.6-2.0 10(-5)/℃

Heat-conducting Coefficient




38-55W(/m.k)

Tensile Strength




≥755 N/mm2

Anti-compact Tenacity




≥400-500 KJ/m2

Hardness




≥ 210 HB

Flexibility Coefficient




100-140 KN/mm2

Tensility




≥ 12%

Friction

Oil Lubrication

0.03u

Dry Lubrication

0.16u

Working Temperature Limits




-40℃ ~+300℃

Max Load Pressure




100N/mm2

Max Linear Velocity




0.50 m/s

Max PV Value




1.65N/mm2.m/s
Application:
used on consecutive casting and rolling machines,mine-exploiting equipments,ships,steam engine,injection molders and auto molds,anti-abrasion and anti-erosion parts,light industrial machines,tools,moving belt in the drying machine,door of the fireplace,instance,on no oil parts on the building,metallurgy and transportation machines,machinetool,agricultural machinery,crane electromotor,spring pin,steering shaff and transmission etc
Photo:
JDB bronze graphite bearing sleeve type: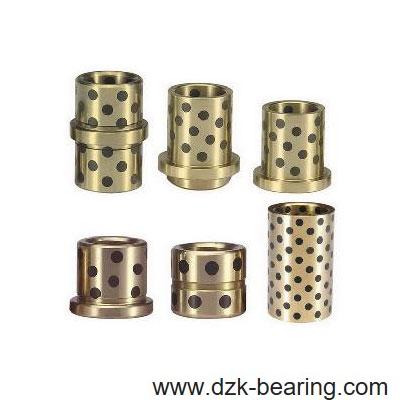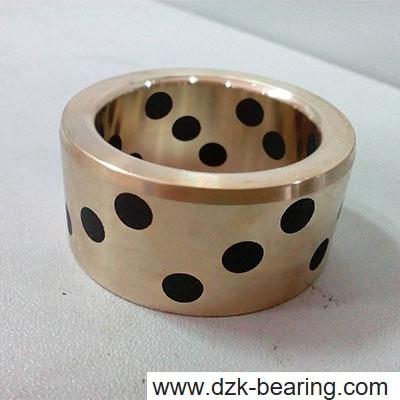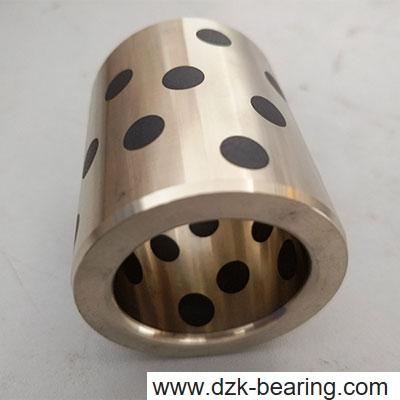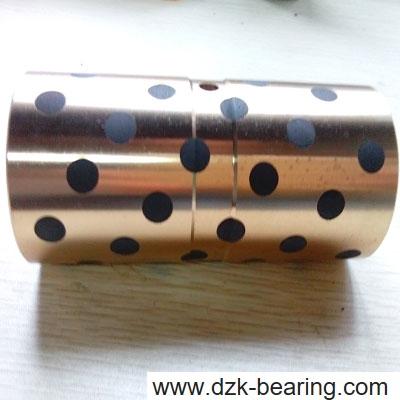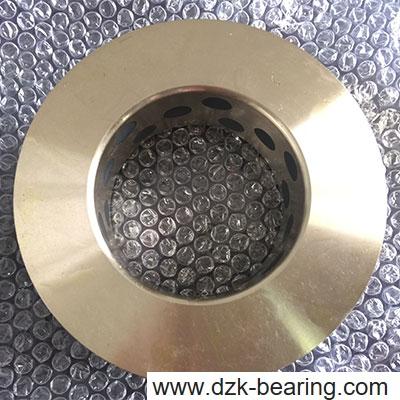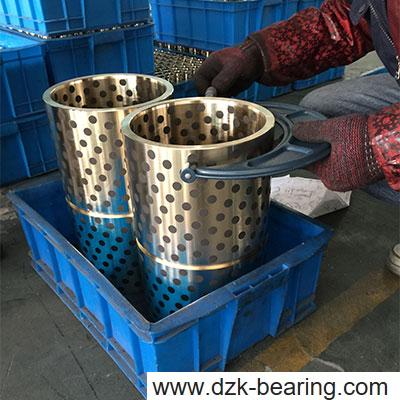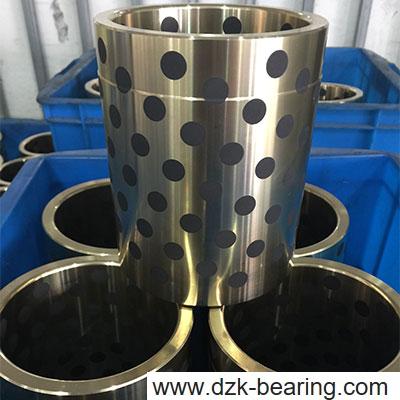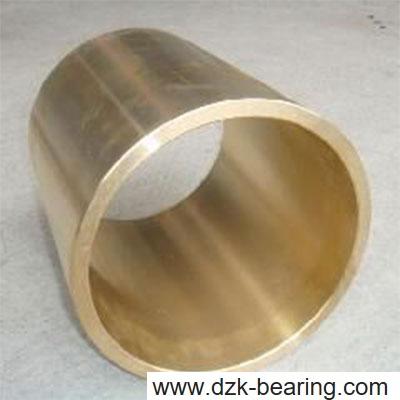 Custom-made guide bearing: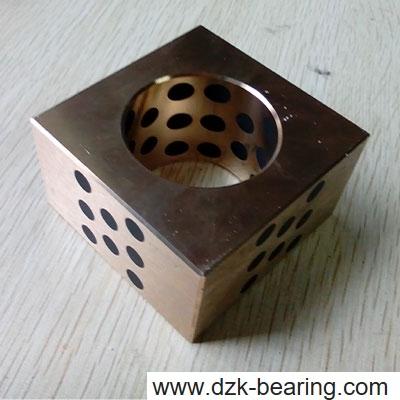 Cast Iron with Graphite bush: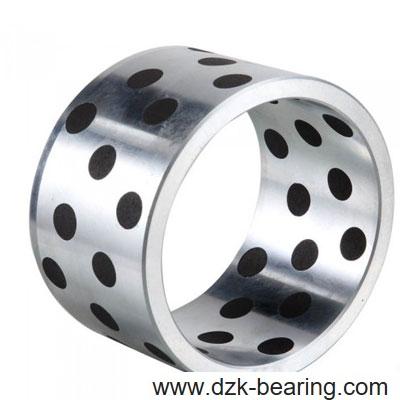 Flange bronze graphite bushing: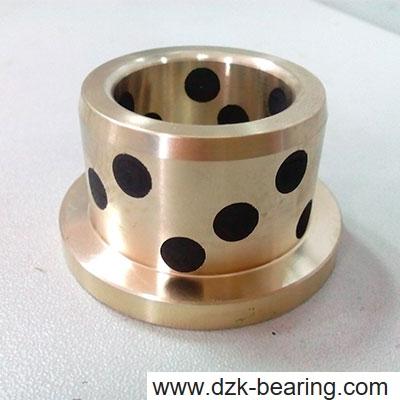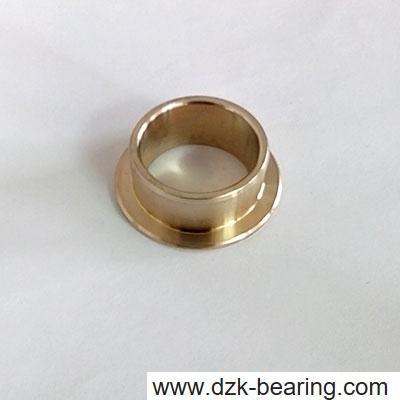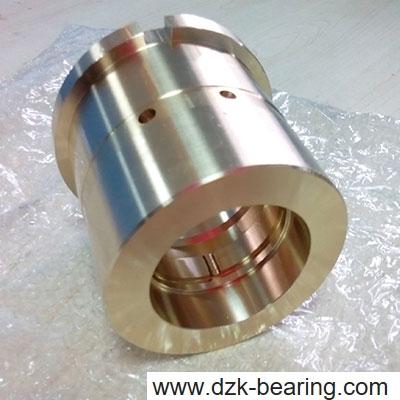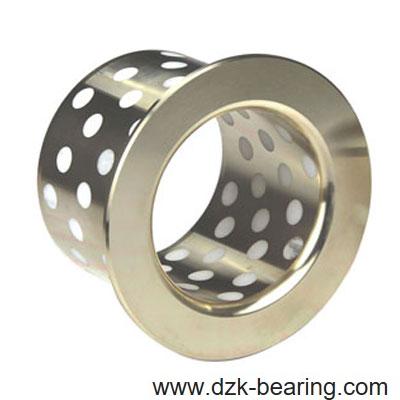 Slide Plate,Skateboards,Thrust Washers,Customized --- Brass Graphite Bushing Solid Lubricating Bearing: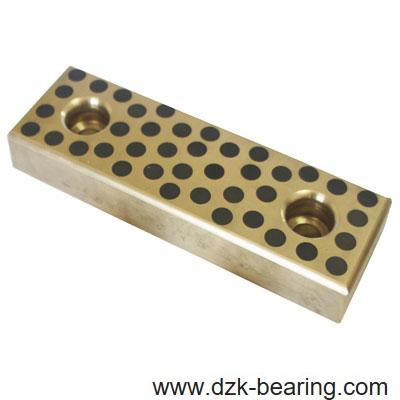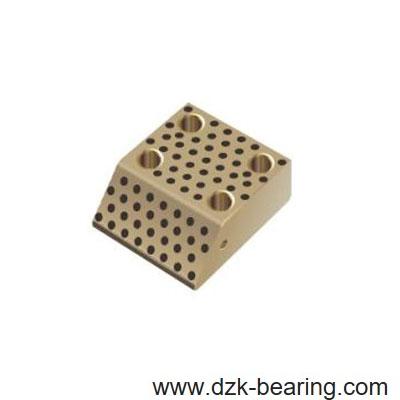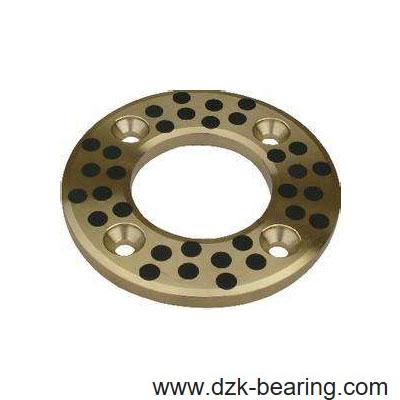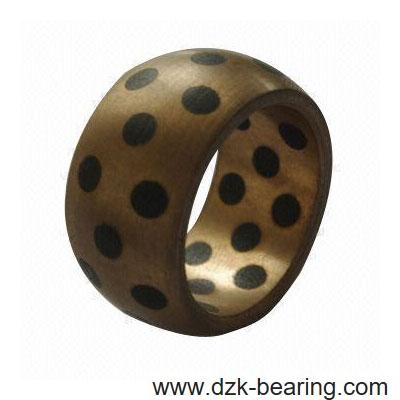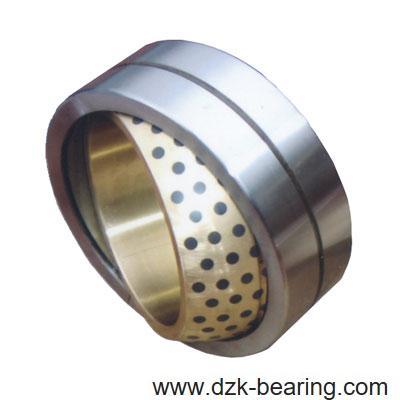 Customized:
Client Drawing,different material,size and type,with graphite or not,etc.
Sankyo Sob Bush Straight, Thin Type
Description
Coppery: CuSn6Zn6Pb3 Feature: Suitable For Heavy Load Applications,Excellent Corrosion And Chemical Resistance.
Lubrication: Graphite,Self-lubricating,oil Groove, Oil Hole, Non - Standard Size Customized Areas Of Use: Hardware And Steel Fabrication, Stamping Dies, Tooling Components For The Automotive Industry, Sheet Pressing Etc.
Shapes & Type: #500-serie, BWG, BWG-F, OILLESS Bushings, JDB-serie Size: Custom-made
Sankyo Sob Bush Straight, Thin Type, Oilless Metal Sliding Materials
SOB bearings, high-temperature self-lubricating bearings, specializing in the production of oil-bearing sliding bearings, can be customized on-demand, rapid delivery, click to learn more product information, please click to get more information
Bronze Bush CuZn25Al5
Bronze Flange Bush CuZn25Al5
Bronze Bush. the self-lubricating sliding bearing with a very low coefficient of friction.
Graphite Plugged Bushing - Oilless Bushes Manufacturers & Suppliers
Standard Components for Sliding MaterialOill
High-Quality Graphite Lubricants for Extreme Performance & Demanding Applications.
SOB self-lubricating bearing SPB self-lubricating bearing Graphite copper sleeve high temperature resistant copper sleeve
In the process of use, through the friction heat to make solid lubrication and shaft friction, the formation of oil, powder and excellent conditions for lubrication, not only protect the shaft from wear, but also make solid lubrication characteristics eternal. Its hardness is twice higher than the general copper sleeve, wear-resisting performance is also twice higher.
Oilless Metal Sliding Materials
Material characteristics: JDB-1 solid inlaid self-lubricating copper sleeve is a self-lubricating bearing made of holes of appropriate size and orderly arrangement on the metal friction surface of bearing matrix, and then embedded in the holes the forming solid lubricant > with unique self-lubricating performance. The bearing combines the respective advantages of the metal matrix and the special lubrication material, and breaks through the limitation of the general bearing depending on oil film lubrication. Solid lubricated bearings are especially suitable for use under special working conditions such as no oil, high temperature, high load, low speed, anti-fouling, anti-corrosion, anti-radiation, and immersion in water or vacuum solution without adding lubricating oil film at all. 【 Performance characteristics 】 The substrate of JDB-1 solid lubrication bearing should be determined according to the working conditions of the bearing itself. Commonly used materials are high force brass, tin bronze, castings and so on. According to the working conditions of the bearing itself, through the combination of different metal substrates and embedded solid lubricants, the product can be guaranteed to meet the special needs of various working conditions such as temperature, load, movement and medium, while ensuring stable and reliable work. This style is made of (high power brass). The products are widely used in metallurgical steel rolling equipment, filling equipment, water turbine, gas turbine, instruments and meters, mining machinery, shipbuilding machinery, textile machinery, shipbuilding industry, aerospace and navigation and other fields. At the same time, it is more and more widely used in other industrial and agricultural machinery.
Sankyo Sob Bush Straight, Thin Type Bushing Size
SOB-061008 SOB-061010 SOB-061012 SOB-061015 SOB-061020 SOB-081208 SOB-081210 SOB-081212 SOB-081215 SOB-081220 SOB-081225 SOB-081230 SOB-101408 SOB-101410 SOB-101412 SOB-101415 SOB-101420 SOB-101425 SOB-101430 SOB-121810 SOB-121812 SOB-121815 SOB-121816 SOB-121820 SOB-121825 SOB-121830 SOB-142010 SOB-142012 SOB-142015 SOB-142020 SOB-142025 SOB-142030 SOB-152110 SOB-152112 SOB-152115 SOB-152116 SOB-152118 SOB-152120 SOB-152125 SOB-152130 SOB-162210 SOB-162212 SOB-162215 SOB-162216 SOB-162218 SOB-162220 SOB-162225 SOB-162228 SOB-162230 SOB-162235 SOB-162240 SOB-182412 SOB-182415 SOB-182418 SOB-182420 SOB-182422 SOB-182425 SOB-182428 SOB-182430 SOB-182435 SOB-182440 SOB-202810 SOB-202812 SOB-202815 SOB-202816 SOB-202820 SOB-202825 SOB-202830 SOB-202835 SOB-202840 SOB-202850 SOB-203015 SOB-203016 SOB-203020 SOB-203025 SOB-203030 SOB-203040 SOB-223212 SOB-223215 SOB-223220 SOB-223225 SOB-253312 SOB-253315 SOB-253320 SOB-253325 SOB-253330 SOB-253335 SOB-253340 SOB-253350 SOB-253360 SOB-253520 SOB-253525 SOB-253530 SOB-253535 SOB-253540 SOB-253545 SOB-253550 SOB-303815 SOB-303820 SOB-303825 SOB-303830 SOB-303835 SOB-303840 SOB-303850 SOB-303860 SOB-304020 SOB-304025 SOB-304030 SOB-304035 SOB-304040 SOB-304045 SOB-304050 SOB-304060 SOB-354520 SOB-354525 SOB-354530 SOB-354535 SOB-354540 SOB-354545 SOB-354550 SOB-354560 SOB-405020 SOB-405025 SOB-405030 SOB-405035 SOB-405040 SOB-405045 SOB-405050 SOB-405060 SOB-455530 SOB-455535 SOB-455540 SOB-455545 SOB-455550 SOB-455560 SOB-506025 SOB-506030 SOB-506035 SOB-506040 SOB-506045 SOB-506050 SOB-506060 SOB-506070 SOB-506080 SOB-557040 SOB-557050 SOB-557060 SOB-607530 SOB-607535 SOB-607540 SOB-607550 SOB-607560
Supply Ability: bronze sleeve bushings, China, manufacturers, suppliers, factory, wholesale, Metallic Self Lubricating Bushings, Cast Iron Bearing, Sleeve Bushing, POM Bearing, Cast Iron Plain Bearing, Lubrication Bronze Bushing